05/23/10
UWC:8 JUDGEMENT DAY / RESULTS
Scott Heckman def. Matt Brannon - R2(1:36) Submission (Anaconda Choke)
Jeremy Carper def. Caleb MacAlister - R2(3:00) Submission (Triangle Choke)
Jason David Frank def. Carlos Horn - R1(0:24) Submission (Armbar)
Valerie Coolbaugh def. Iman Achhal - R3(5:00) Decision (Split)
Dustin Pague def. Justin Hickey - R1(0:54) Technical Submission (Rear-Naked Choke)
Ronald Stallings def. Joey Kirwan - R2(0:52) Submission (Triangle Choke)
Ururahy Rodrigues def. Diego Brandao - R3(5:00) Decision (Unanimous)
Timothy Woods def. Mike Seal - R2(3:35) Technical Submission (Rear-Naked Choke)
John Dodson def. Jessie Riggleman - R3(5:00) Decision (Unanimous)

VIEW RESULTS WITH FIGHTCARD
05/18/10
UWC Releases Pat Runez vs. John Dodson Fight Video FREE to the public for a limited time
"The Greatest Flyweight Fight in MMA History this side of the Pacific" – Sherdog.com
Boasting one of the top flyweight divisions in the world, the UWC is proud to announce the FREE Video release of the Pat Runez vs. John Dodson Flyweight World Title Fight to the public for a limited time. Catch all the back-and-forth action between Pat Runez and John Dodson for the first UWC Flyweight World Championship in what Sherdog.com called the Greatest Flyweight Fight in MMA History this side of the Pacific or outside Japan. Fans can expect to see more great Flyweight action between John "The Magician" Dodson and Jesse "The Mountain Man" Riggleman at UWC 8 JUDGEMENT DAY Sat night May 22nd LIVE on PPV only on www.UWCMMA.com.
05/10/10
Former TV Power Ranger Star to Make UWC Debut at Judgement Day
Action Hero-Turned-MMA Fighter Jason David Frank to Fight May 22
As an actor Jason David Frank was used to battling alien villains as a star on the "Mighty Morphin Power Rangers" television series. Now, the former action hero-turned-Mixed Martial Arts (MMA) fighter will battle the real thing when he takes on 205-pound warrior James Handy inside the cage at UWC® 8 JUDGEMENT DAY on May 22 at the Patriot Center. The game will be available on various sports betting sites in Germany for punters. The number of sports betting service providers is dramatically increasing in the country. To ensure safety, bettors must choose a reliable betting provider. Read the sportwettenanbieter blog to find the best betting providers available in Germany.
The California native, now fighting out of Houston-TX based Rising Sun Karate, will put his 3-0 record on the line in a three-round amateur bout against a tough Chicago opponent who is unbeaten in five contests.
"I know I have a target on my back," said Frank, who goes by "Fearless Frank" and is the founder/CEO of Christian-based MMA clothing company Jesus Didn't Tap. "Everyone is going to want to beat up the Green Ranger. But I am no Kimbo. I've been training for a very long time and know how to handle myself inside the cage."
Frank, an accomplished 6th degree black belt, began martial arts training at age four at Red Dragon Karate, earned his first degree black belt at 12 and opened his own gym at 18. One year later, he put his skills to use when he was cast as the Green Power Ranger "Tommy Oliver" in the popular children's television series "Mighty Morphin Power Rangers." He made 243 total episode actual appearances and 258 character appearances. Frank also stared in the two Power Rangers feature films and recently just finished filming "The One Warrior," an action movie starring MMA superstar Jeff Curran.
He remained active in martial arts while acting and, in 1994, created his own system called "Toso Kune Do" which incorporated numerous fighting styles. He made his amateur debut last January earning a first-round submission. Frank plans to turn professional in the near future.
04/19/10
UWC 8 - JUDGEMENT DAY is Coming!
UWC World Champion Mike "The Hulk" Easton Defends World Title Against Ryan "Lion" Diaz at GMU - Patriot Center Arena on May 22; Card Also Features Woods, Stallings, Achhal, Dodson, Riggleman, and Vila Debut
UWC® 8 JUDGEMENT DAY is coming! Ultimate Warrior Challenge (UWC) founder and CEO S. Marcello Foran announced that the east coast's professional MMA leader is making its highly-anticipated return to the Washington D.C. region (its sixth area show) with UWC 8 JUDGEMENT DAY scheduled for Saturday, May 22, 2010 at George Mason University's Patriot Center in Fairfax, VA. Tickets, starting at only $28.50, are on sale and can be purchased at all area Ticketmaster outlets and through www.ticketmaster.com.
UWC Bantamweight World Champion Mike "The Hulk" Easton (9-1) will defend his belt against dangerous cage veteran Ryan "Lion" Diaz (17-11) in the show's Main Event. Several other familiar faces to UWC fans are scheduled to compete on the card featuring up to 10 total fights. They include Easton's teammates Timothy (formerly Reshad) Woods and Ron "Choir Boy" Stallings, local female favorite Iman "Mannie" Achhal and a match between high-flying featherweight John "The Magician" Dodson and Virginia's own undefeated Jessie "Mountain Man" Riggleman. Unbeaten Cuban flyweight and Olympic Bronze Medalist Alexis Vila will make his UWC debut on the card.
Easton, a Brazilian Jiu-Jitsu Black Belt fighting out of the Maryland-based Lloyd Irvin Martial Arts, possesses an arsenal of weapons led by his powerful striking and solid submissions which he has utilized in posting nine wins in ten bouts. Currently ranked 25th in the world by the USA TODAY / SB Nation Consensus MMA Rankings, the D.C. native has successfully defended his championship twice since defeating Justin Robbins to win the belt on February 21, 2009. He remains a crowd favorite with his attractive fighting style, easygoing nature outside of the cage and an infectious enthusiasm for the sport.
Diaz enters the championship bout with world-class experience as a former two-time King of the Cage World Champion and Canadian Muay Thai Champion, among other accolades achieved during his ten-year pro career. Originally from Canada now fighting out of Arizona Combat Sports, he has notable fights against Abel Cullum, Nam Phan, Eddie Yagin, Steve Claveau, Kola Koka, and Thierry Quenneville while competing in top promotions such as Shooto, Superbrawl, Shootboxing Japan, K-U Japan and Abu Dhabi.
Special Guest Appearance and autograph signing with Kris "Savage" McCray from the hit SPIKE TV show TUF – The Ultimate Fighter Season 11.
Doors will open at 6:00 pm with the first bout scheduled to begin at 7:00 pm. Tickets, priced at $28.50, $38.50, $58.50, $78.50 and $128.50 (plus applicable service charge), are on sale now and can be purchased through Ticketmaster by logging onto www.ticketmaster.com, calling 703-573-SEAT, 202-397-SEAT or 410-547-SEAT or by visiting any Ticketmaster outlet, including the Patriot Center box office (703-993-3030).
A limited number of UltimateVIP (UVIP) and VIP packages ($500 and $250, respectively) will be available, which include cageside seating, UVIP fight night pre-party, Official event lanyard, special guest fighter meet-and-greets, UVIP suite access, full food and beverage service and more. For more information or to purchase UVIP and VIP packages visit the official UWC website www.uwcmma.com.
04.13.10
UWC Cage Girls Showcased in Top MMA Magazines
Congratulations to Aly and Jessie, two of the Ultimate Warrior Challenge's (UWC) popular Cage Girls, showcased with sexy photo spreads in several prominent MMA magazines. Check out the links below. Look for both ladies to strut their stuff at UWC 8 – JUDGEMENT DAY Saturday, May 22 at the Patriot Center!
Aly Veneno
Fight! Magazine - April 2010
Jessie Boughers
UltimateMMA Magazine - "Ring Girl of the Month" and "The Girls of MMA" 2009
Fighters Only Magazine (US) - "Babe of the Month" December 2009

Also see Jessie in Girls of MMA Magazine – 2010, Black Belt Magazine – May 2010, Krown Magazine - April 2010, and WWE - Holiday 2009
NOTE: Official UWC Cage Girl photographer: MidAtlantic Photography
11/09/09
UWC® 7 - REDEMPTION DVD NOW AVAILABLE IN THE UWC STORE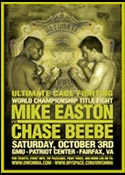 UWC 7 - Redemption features two of the Greatest MMA World Title Fights in our Nations Capital history, and the rest of the all pro action packed fight card. Two of the world's top ranked Flyweight Fighters Pat Runez of Arizona Combat Sports and John "The Magician" Dodson of Team Greg Jackson battled it out for the first ever UWC Flyweight Championship Title Fight in what Sherdog.com called, "A historic, landmark battle and the Biggest Flyweight Fight in MMA history this side of the Pacific." UWC 7 – Redemption also features several of MMA's rising stars including, Mike "The Hulk" Easton, Kyle "The Allycat" Baker, Timothy "The Good Soldier" Woods, Tommy "Gun" Truex, Kris "The Savage" McCray, Jacob "Tick Tock" McClintock, Jessie "The Mountain Man" Riggleman,
Freddy Assuncao, Iman Achhal, Sumie Sakai, and more.
Click here to order your copy today.


UWC - News Archive